Rising acquisition costs amid declining loyalty and eroding margins in travel are the two big challenges the founder of Ultimate Travel Group identified and facing the travel industry.
The UK-based travel subscription start-up is emerging from the COVID pandemic with the growing belief that its model will resonate with the modern digital customer.
Subscriptions have taken off in many other industries, including online entertainment streaming, and Brett Norton believes they are the answer to customer retention and travel profitability.
He told Travolution that a decade of experience working with hotel brands and brands like Travelopia, Celebrity Cruises and Riviera Travel has taught him that travel has two big challenges.
"The biggest challenges are customer acquisition and margin; make travel a profitable industry.
"In 2018/19, it occurred to me that there had to be a better way to offer customers a better proposition that works for both the business and the traveler."
Norton said he's seen how big travel companies erode their margin with cumbersome back offices and high marketing costs as they're constantly forced to buy back customers.
And he said the end result is that the customer doesn't necessarily get what they want both in terms of better price or product.
Together with Ultimate Travel Club president Stephen Knight, a former senior vice president at Disney, they sat down to figure out how to address these challenges.
They mapped out how to bring a subscription model to travel to the UK and were about to get going when COVID-19 hit and stopped.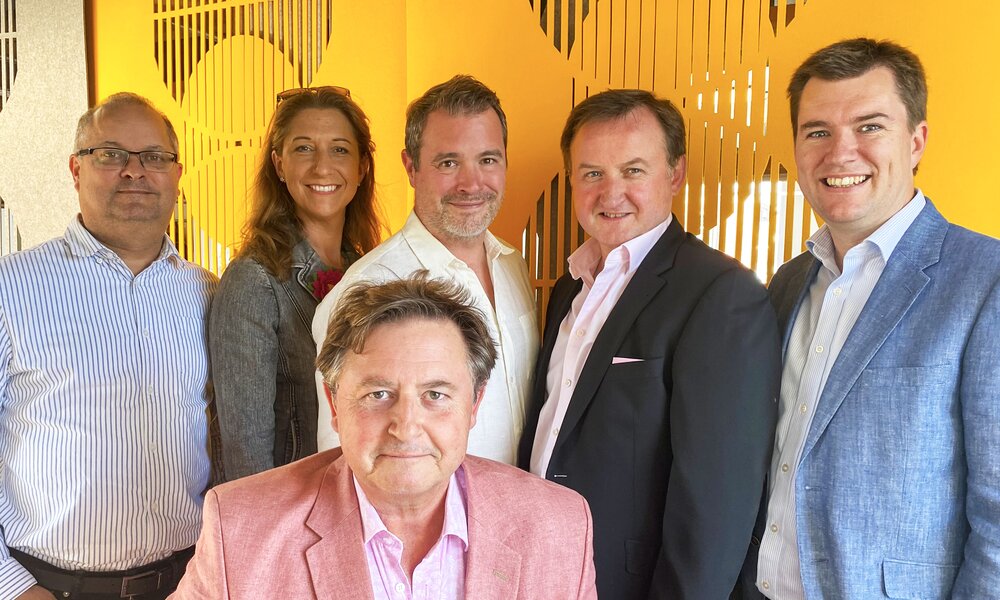 "We were close to pushing the button before the pandemic, but luckily we didn't and we used the pandemic wisely to strengthen the proposition," says Norton.
"We assembled a great team at board level and used the time wisely, so we really timed our launch as the world started to get back on its feet."
The pandemic hiatus provided an opportunity to invest in technology, test and learn, and refine Ultimate Travel Club's customer offering.
A bespoke price comparison tool was created for users to validate the savings and an engaged community of early adopters was recruited to shape the vision.
These came through a £40,000 crowdfunding campaign that offered them a three-year membership in return for their investment.
A £250,000 seed round has just been completed to fund the venture this year with another raise planned for next year ahead of a Series A in early 2024.
"If we stabilize our rate of growth and understand the true cost of acquiring a new member, any increase we make will be to scale membership faster," Norton says.
Digitization and erosion of loyalty
Ultimate Travel Club's goal is to become Aladdin's kind of cave for travel and the first port of call for its members, like the street agents of yore were once pre-internet.
Norton sees this as a "dial movement" in the industry, pioneering a Travel 2.0 approach that seeks to combat growing consumer promiscuity in the digital age.
For subscribers, Ultimate Travel Club becomes a personal leisure concierge where everything is booked, from theater breaks to annual vacations to restaurant tables.
"Whatever you were looking to book, travel agents were your first port of call. Digitization has eroded some of that
"Consumers are becoming increasingly promiscuous and loyalty is disappearing to some extent. You will use different operators to book different types of travel.
"It impacts business because you're looking for that lifetime value and the ROI is getting longer and longer.
"The subscription should allow us to become much more sticky for a member. We should be a bit of an Aladdin's cave and offer a lot more of what the user is looking for.
"By creating this level of rigidity, you can offer what they want at a fraction of the price of other operators.
"And if the subscription fee covers our operating overhead, we can be much more agnostic about the products we seek to sell.
"Most of the travel brands and are dependent on Google. It becomes this drug that you can't live without because as soon as you start pulling back, your traffic goes down.
"It becomes this endless cycle because you're constantly looking for new brand customers."

Ultimate Travel Club believes it can attract and retain customers throughout the journey, ensuring it has a sustainable business model.
One area it sees potential is in providing closed user groups, such as corporate employees, memberships as part of their job for work, and personal travel incentives.
The club environment the company strives to create helps it better understand what its members like and want and provides vendors with a private marketplace to offer deals.
It will also make the online booking experience personalized and simple and, through its partnership with JTA Travel Group, provide members with a tailored agent service.
"We know what our members like and what their preferences are. It's about understanding this as much as possible and bringing customization to the back office.
"This means that when you log in, your experience is tailored to what you like. No two members should have the same experience when they log in.
Ultimate Travel Club's private marketplace model means it can negotiate market-leading deals and aims to be cheaper than the most popular OTAs every time someone searches.
On track to reach 100,000 members within two years
Currently, its in-house price comparison tool shows it's cheaper than Expedia and booking.com 91% of the time, Norton claims, and the average saving is £252.
"There are 9% of occasions where we are not as strong, but with 1.1 million hotels on the platform, that's a good success rate," he added.
In addition to its multiple hotel inventory providers, Ultimate Travel Club is connected to feeds for flights, transfers, attractions, and car rentals. It also offers 11,000 cruise itineraries.
Users can create their own vacation on the JTA Atol-protected platform and see the savings add up with every component, though hotels offer the best opportunity to save.
To give UK members more added value, they can access 25% off 6,000 restaurants, 50% off outings to top attractions and 30% off cinema bookings.
Thanks to a partnership with Holiday Extras, members get a 20% discount on travel insurance, a savings that could be equivalent to the annual fee of £99 alone.
The company is aiming to reach 100,000 subscribers over the next two years and says it is close to reaching that number based on the current trajectory.
This is the first over the line media promotion with Bauer Radio which is set to run until mid-October and this is being supported by social media activity.
"We're doubling the number of members every month," says Norton, "so there's an opportunity to exceed our goal if this pace continues. We are very happy with the direction of the trip.

Going forward, Ultimate Travel Club will seek to enter overseas markets, although it already has members in 17 countries.
But before that, it will expand the "clubhouse" proposition by working with partners to provide incentives to stay relevant even when members aren't travelling.
It will seek to create exclusive member-only experiences and trips that set it apart from competing travel companies and create a sense of community among its subscribers.
"The over-commodification of travel and the erosion of prices and margins are making it increasingly difficult for businesses to profit from travel," Norton says.
"That's why the subscription model is very interesting and that's why we adopted it. We want to be a pioneer of the club experience.
"Every travel company is there to try to make the biggest margin possible and sometimes that means up-selling and cross-selling.
"But our number one goal is to make sure our customers are engaged and if they are, we've done our job and we can be really agnostic about which property they choose."
The rise of the subscription model in travel
Norton sees signs of a general shift towards membership or subscription models among hotel groups and travel OTAs, but many loyalty programs rely on discounts to buy that loyalty.
He praises European OTA eDreams group ODIGEO for being "smart" and "quick" in establishing its Prime model from scratch.
But he adds, "One of the challenges big brands face is how to transition from a commission-based mark-up business to a large-scale subscription business with legacy costs.
"We're seeing conversations happening at all levels about how big brands can make subscriptions work and we're very comfortable with that.
"It helps to elevate the concept and put it in the minds of customers and we don't have the big budgets that big brands have to do that."